The Ridgway Railroad Museum Board
The Ridgway Railroad Museum was founded in 1998 by Austin Baer, Terry Blackford, Jim Wing, Greg Posta, John Billings and Karl Schaeffer. Austin Baer served as President from 1999 to 2001. Gregory Posta was president from 2001 to 2006 and Karl Schaeffer has been president since 2006. For a history of the museum see the January and February 2006 Museum Newsletters as well as the Museum's book Railroading in the San Juan Triangle.
The Ridgway Railroad Museum is governed by a board of directors consisting of seven members including president, vice-president, secretary, treasurer and three general board members. The current officers as well as profiles and photos for each of the current board members are given below: 
President - Karl Schaeffer
Vice-President - Jim Pettengill
Secretary - Position Open
Treasurer - Kathy Pettengill
Don Paulson serves as both the Newsletter Editor and as Membership Chairman.
Karl Schaeffer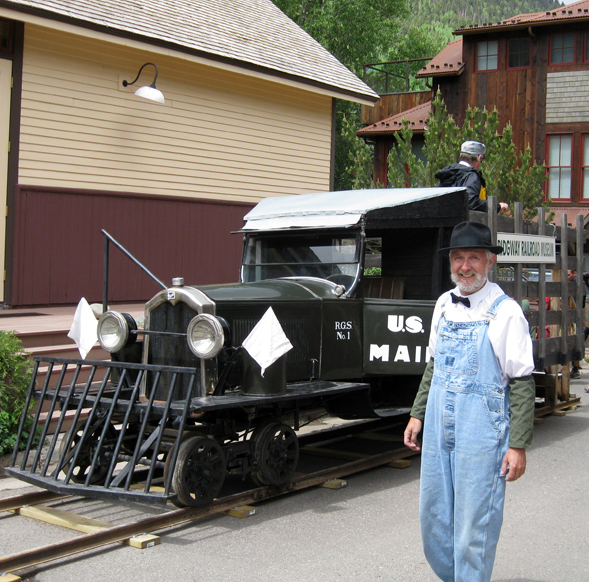 Karl grew up and went through secondary school in Montrose. He received two degrees from Colorado School of Mines and one from University of Colorado and then married his wife Janet. He worked for the Denver and Rio Grande Western RR for a little over 22 years. Most of his work was in various capacities in the Mechanical Dept up to Assistant Chief Mechanical - Locomotive for the SP/D&RGW RR. Karl retired to Ridgway in 1997 and in 1998 became one of the founders of the Ridgway Railroad Museum which he now serves as president. He became a volunteer with the Telluride Adaptive Ski Program where he has have been an instructor/trainer for 10 years. Karl built a recreation of RGS Motor No. 1 and was the lead restorer on RGS Goose No 4. Both run occasionally at the Ridgway Railroad Museum.
Rod Bunyard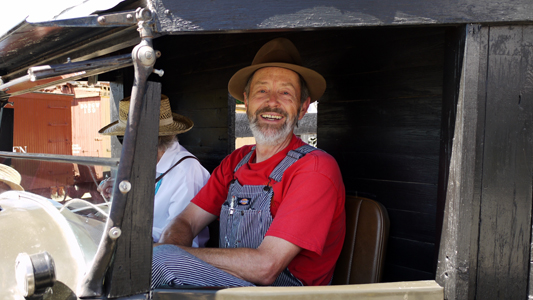 Rod has loved trains since receiving a Lionel train set as a child. He switched to modeling HO scale in high school in Colorado Springs. After graduating from Fort Lewis College in Durango, he became a displaced Coloradoan by moving to Kansas City, Mo, to work for the Social Security Administration. After retirement Rod returned to western Colorado, moving to Montrose in 2003 and worked several years as a handyman. After retiring again, Rod helped in the restoration of Motor Number 4 and was selected to be lead motorman for Motor Number 1 at Goosefest in Golden in 2012. He currently serves as president of the model railroad club in Montrose. Rod and his wife Judy enjoy traveling with their travel trailer and visiting train museums and model railroads and riding tourist trains wherever they go.
Tom Hillhouse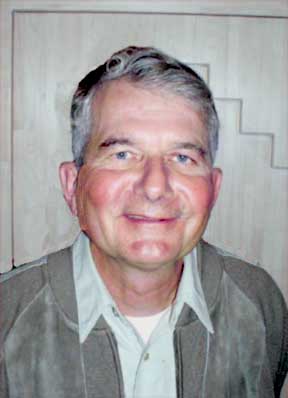 Tom obtained his BA Degree from Bowling Green University and his JD from the Ohio State University. Subsequently he joined the Procter and Gamble Company of Cincinnati Ohio and retired as an Associate General Counsel after 30 years of service. Tom grew up on Bellevue, Ohio. He has two sons and four grandchildren. He and his wife Sue currently live between Ouray and Ridgway, Co. He is a member of the Red Mountain Task Force and his interests include history, particularly that of mining, railroading and the postal service. In addition, he enjoys hiking.
Jim Pettengill and Kathy Pettengill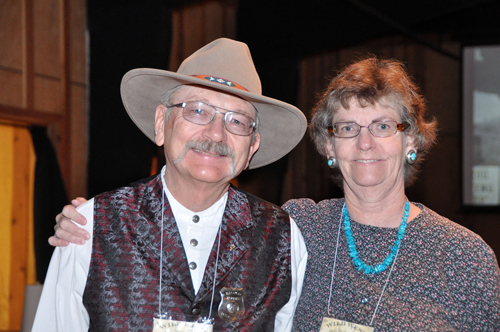 Jim Pettengill grew up near Spencerport, New York, attended college in Meadville, Pennsylvania and Flagstaff, Arizona, and worked as a geologist for the U. S. Department of the Interior for 27 years before retiring to Ridgway. Now he is an active freelance writer and photographer. His great-grandfather was a locomotive engineer for the Atlantic and Great Western; Erie; and Buffalo, Rochester and Pittsburgh railroads from 1870 through his retirement in 1910. Jim is currently vice-president of the museum.
Kathy Pettengill grew up in the copper mining town of Bisbee, Arizona, so she feels right at home in Ouray County. She earned a biology degree in Flagstaff, Arizona, and has held a wide variety of jobs, including clockmaker, dairy herd inspector, forest ranger and tax preparer for H&R Block. She is currently the museum's treasurer.
Robert Meyer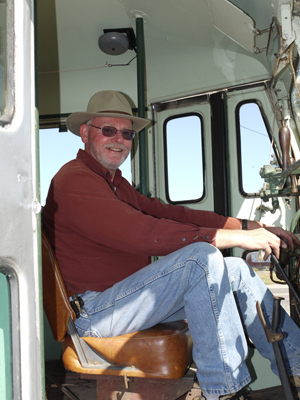 Bob was born, raised and educated in Chicago and the Chicago area. He spent three years in the US Army Transportation Corps, schooled at Ft. Eustis, Virginia, and served mostly in Inchon, South Korea, and the US Army Arctic Training and Test Center at Ft. Greely, Alaska. Following his military service Bob was employed by the Chicago and North Western Railway in Chicago for 26 years in the Engineering, Real Estate, and Industrial Development Departments. He moved to Ouray County in 1997 where he built his home on Log Hill Mesa and worked for the US Postal Service for 9 years as a rural mail carrier, retiring for good in 2010. His hobbies include model railroading, photography and exploring Colorado and the West.
Don Paulson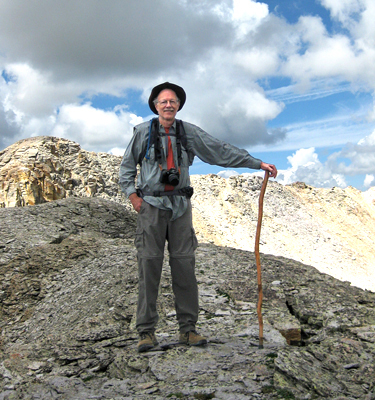 After receiving his Ph.D. from Indiana University and a post-doctoral fellowship at the University of Chicago, Don joined the faculty of California State University, Los Angeles in 1970. He chaired the Department of Chemistry and Biochemistry from 1982 through 1990 and retired from Cal State LA in 2006. He and his wife Beth began coming to Ouray on vacations in the 1980s and built their home here in 1999. Don has a passion for mining and railroads. He is on the Board of the Ouray County Historical Society and serves as the museum curator. In his spare time he enjoys photography as well as hiking and jeeping in search of yet another mine or railroad right-of-way.