June 2010 Ridgway Railroad Museum Restoration Week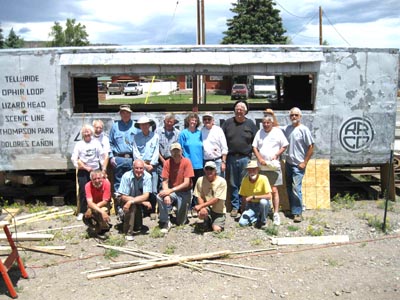 (See more photos after the story)
Ridgway Railroad Museum President Karl Schaeffer declared our Third Annual Restoration as the best ever. Again the weather was warm and sunny. In addition to our local "crew", three members from Grand Junction and one member from Houston, Texas joined in the fun. A well-fed group is a productive group. Museum Treasurer Kathy Pettengill prepared our lunches each day, while Bob and Connie Schaeffer kept us supplied with iced tea, pop, and donuts. Chris Weiser arrived on Thursday having spent the earlier part of the week putting 2,800 miles on his SUV during a quick trip to California. Chris' day involved the re-installation of several sections of the cedar fencing at the Museum.
Vice President Jim Pettengill was our painting team leader. He painted portions of both Motor 1 and D&RGW Caboose 0575. On Monday morning Felecia Gomez of Montrose assisted Jim. Felecia is currently the reigning Miss Teenage Colorado. She graduated from Olathe High School this spring and will be attending Mesa State College this fall in their nursing program. Board member Bill Pratt of Grand Junction attacked our tool crib. Pulling out all of the paint cans, tools and supplies, Bill built much-needed shelves and placed all these items in an organized fashion. Now at least one member knows where everything is. Connie Schaeffer followed with a spring-cleaning of the water service car. She and husband Bob also found time to process more historical Museum documents.
John Weiss, a Texas member, spent most of the week on his back under the bus body of Goose 4. He removed, cleaned, and painted the drive shaft. He also used the same approach with the two air reservoir tanks that are a part of the air brake system on the Goose. The tanks were hydro-tested, and only one minor problem was identified. This is the second year in a row that John has worked on Goose 4, and he got in some overtime Friday morning as several of us were loading rail for our Telluride "adventure." Board member Don Kellogg and Karl had been working on disassembling the power truck on Goose 4 for a couple days. Karl had fabricated a couple of custom pullers, and used a little heat to aid the task. The power truck is a critical component in the drive system of the Goose, and the Ford truck axle assembly has some damage that will require new axles.
Karl, while working with John and Don Kellogg, he found time to repair the ignition system of Motor 1, drive a few spikes, and answer several questions of the various crews. The week requires a lot of systematic pre-planning, and Karl is truly in his element. Karl's "to do" lists are classics. Two of our other Grand Junction members were also major players. We discovered Campbell Stanton had worked on a track crew as a young man, therefore, he knew how to drive track spikes. Campbell, who is gainfully employed in the heating business, paired with Bill Ellicott.
Bill, at age 86, is a former D&RGW brakeman, with a world of experience and excellent solutions to many of the problems we are facing. Campbell and Bill disassembled, inspected, cleaned and reassembled the rear truck of Goose 4. They also completed our four year D&RGW 702 drop bottom project, by finishing the last three doors. Bill also was part of Jim's paint crew on Monday. Bill and Bill Pratt are two of the important cogs in the Orchard Farms Uintah Railroad restoration activities. Don Paulson, the Museum web master and board member, worked with Tom Hillhouse and Stuart Harrah in the former Ridgway Depot outbuilding. New floors are now down in the entire structure, and shelving for storage was also built. Door openings have been modified. One afternoon Don and Stuart disappeared - they claimed for a trip to Montrose for more lumber. I think the empty Starbuck's cups in Stuart's truck told a different story.
Dan Turner, who built the roof bows for the Goose 4 freight box two winters ago in Indianapolis, found himself paired with me. We made a lot of small boards out of larger ones, as it was necessary to custom cut the replacement boards for the interior of the freight box. We ate sawdust for four days. It was like a giant jigsaw puzzle returning each original piece to its former location. Photos and a numbering system made the process go smoothly. While we have made tremendous progress on Goose 4, we are likely looking at a couple more years (2012) before we have this project completed. Because this is an outdoor activity for the most part winter finds us planning and acquiring the bits and pieces we will need the following spring when we can resume work. The decision of the Telluride Fire Department to fund a total operational restoration has extended our timeline. The Museum totally supports this decision as the right approach to historical restoration.
While Karl's checklist is much smaller than it was a month ago, much remains to be done. The engine and the transmission are currently at the Fire Station at Mountain Village (Telluride Mountain) for rebuilding. The exterior of the Wayne school bus body and freight box need to be blasted, primed, painted and lettered. A new radiator needs to be ordered and installed. Parts need to be located to repair the power truck and complete the power train. The sanders need to be rebuilt, maybe a winter activity. The brake system needs to be returned to operational condition. The recently re-caned and rebuilt streetcar seats have let to be re-installed. All the instruments on the dashboard need to be replaced. This is by no means a complete list, but it does give you a broad overview of some of the tasks that remain to be done. As one member stated, this is likely the most fun a person could have and still have their clothes on. Restoration Week brings together a diverse group of our members, with a vast amount of experience, expertise, and enthusiasm for the tasks at hand. A well deserved "thank you" to everyone that was the class of 2010 for Restoration Week.
John Weiss (l) and Motorless Goose (r)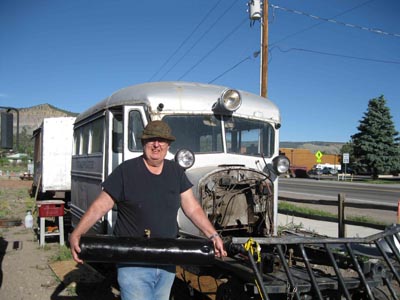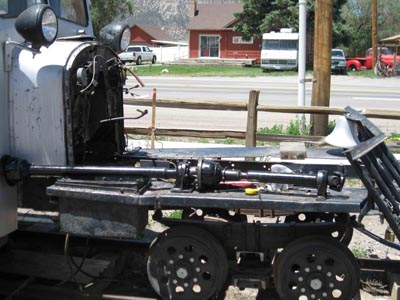 Jim Pettengill (l) and Bill Pratt (r)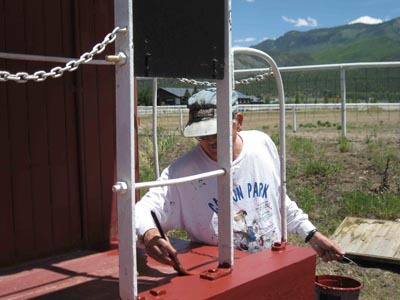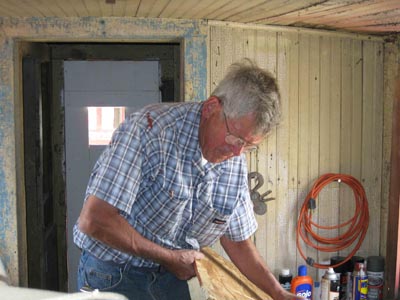 Bill Ellicott/Campbell Stanton (l) and Stuart Harrah/Tom Hillhouse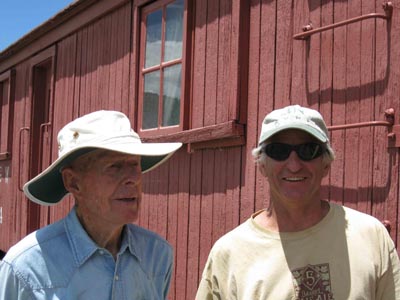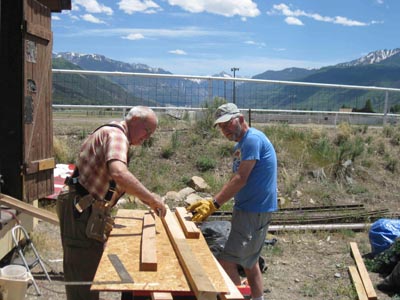 Bill Ellicott/Campbell Stanton (l) and Don Kellogg/Karl Schaeffer (r)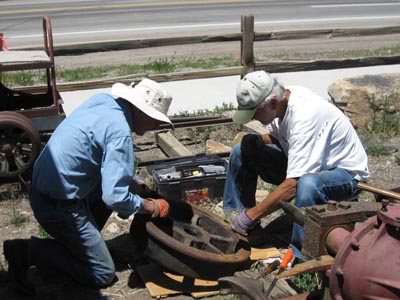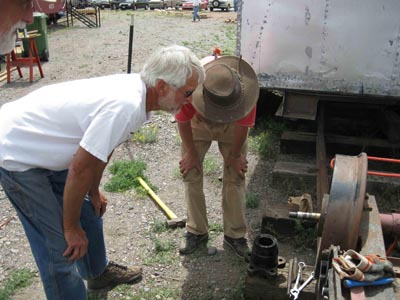 Don Kellogg and Stuart Harrah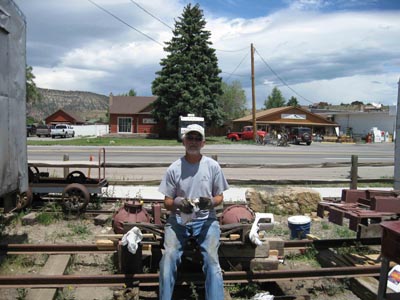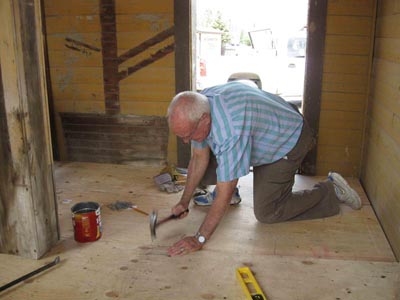 Don Paulson