D&RG Car 118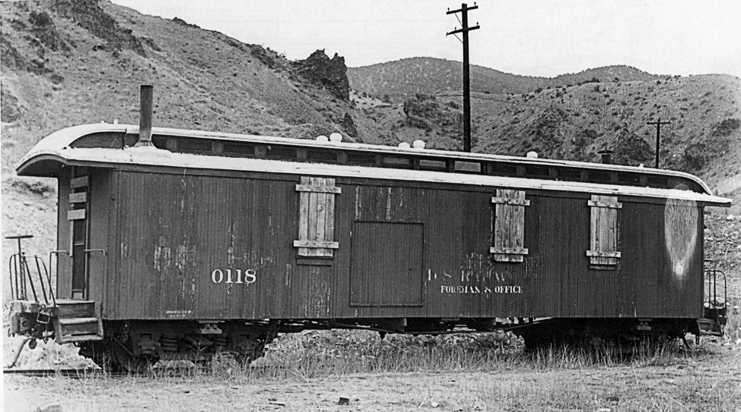 On July 10, 2010 the Museum Board authorized President Karl Schaeffer to accept D&RG mail/baggage car 118. The offer came from the Uintah Railroad group at Cross Orchards in Grand Junction. The car will be a multi-year project and provides a nice addition to our rolling stock collection. Current plans call for for 118 being moved to Ridgway in the spring of 2011. The above photo comes from Colorado Rail Annual No. 25 - Rio Grande Narrow Gauge Varnish by Herbert Danneman, published by the Colorado Railroad Museum, Golden, CO. It was taken by Jackson Thoden in Salida on April 29, 1954 .
Karl Schaeffer has proposed the following work to be done over a several year time period:
1) Move and set on ties
2) Repair roof to make water tight with existing tin roof
3) Strip interior to find original location of windows and doors for Business car C
4) Replace siding with correct material and window locations and paint with 1890 color and stenciling (gold leaf)
5) Find or make a set of passenger trucks with 30" wheels and narrow side frames (prototype around 1890)
6) Replace roof with rubber
7) Redo interior with correct ash and furnishings
8) Build and install Miller Hook couplers/Platforms
Researching D&RG Car 118
By Keith Koch
Board member Bill Pratt passed along some interesting data regarding the Museum's soon to be acquired D&RG 118. This car has a long history and here is what I think we know at this time.
"Our" 118 was the second D&RG passenger car to have that number. The first 118 was built at the Burnham Shops (Denver) by the D&RG in 1880.
Jackson and Sharp, a major passenger car builder of the era, built the second 118 in 1882 for the D&RG as Business Car C for $5,000. The specifications of the car were stated as 35' 10 ½" in length, 29,000 pounds, and an ash interior. It appears as if the car was a one of a kind on the D&RG. It was described as a commissary-kitchen car with sleeping accommodations for six. To learn more about Jackson & Sharp see: 
http://www.coloradohistory-oahp.org/guides/builders/pdfs/Jackson_and_Sharp.pdf
Business Car A was built in 1881 and was a sleeping and observation car, while Business Car B was built in 1882 and was indentified as a kitchen-dining-sleeping car.
A consist of these three business cars were put together in 1882 for D&RG General Manager David C. Dodge in this order C, B, A with A at the end of the train and C closest to the tender.
A 1905 report has Business Car C's length as 35' 10 1/2."
In May of 1906 Business Car C was re-built into a mail and baggage car at an estimated cost of $1,887.00. At that point it became the second D&RG 118, which the railroad was able to do since the original 118 had disappeared from the D&RG roster as of December 31, 1888.
In 1920 it was reported 118 was 36' in length; the mail compartment was 20' in length, and the car now weighed 32,300 pounds. I am guessing that the length was merely someone rounding up to 36'. I am looking forward to "throwing" a measuring tape on the car.
In 1924 the entire car was lowered because the railroad changed the wheel size on the wheel sets. The plans show the originals as 30". At the same time the under frame was re-enforced and extension side bearings were installed.
In June of 1926 118 was converted to a Bridge and Building Bunk Car at Alamosa and re-numbered 0118 indicating that it was no longer a revenue car. This was a common practice of the railroad to convert some cars near the end of their life cycle to maintenance way equipment.
A Jackson Thode April 29, 1954 photo of 0118 at Salida shows it boarded up with the lettering "Foreman & Office."
In 1955 the car was retired at Salida and according to one source "dismantled."
What Bill has located includes a photo of Business Car C ca.1890, the Thode photo from 1954, and a plan of Business Car C from the D&RGW Archives.
Much of what we do know has come from CRR Museum Annual #25, Herbert Dannerman's D&RG Narrow Gauge Varnish.