NARROW GAUGE RAILROADING IN THE SAN JUAN TRIANGLE
This "epic" Museum book, priced at $20.00, is now available for purchase at the Ridgway Railroad Museum and Cimarron Books and Coffee House in Ridgway as well as the Ouray County Museum and Buckskin Booksellers in Ouray. The book is also availabledirectly from the museum by sending a check for $25.00 (postpaid) or through Paypal (ridgwayrailroadmuseum.org).

The book features the three narrow gauge lines that operated in Ouray County: the Ouray branch of the D&GRW, the Rio Grande Southern, and Otto Mears' Silverton Railroad. The book consists primarily of several dozen essays on various aspects of these historic railroads. The book provides a brief history of each railroad and profiles each piece of narrow gauge equipment that resides on the Museum's display track along with detailed information on the re-creation of RGS Motor 1.
The authors, Thomas Hillhouse, Rodney Holloway, Bonnie Koch, Keith Koch, Don Paulson, Jim Pettengill, and Karl Schaeffer are all members of the Museum. Edited by Don Paulson, the 110 page book is magazine size, with excellent black and white photographs accompanying each article.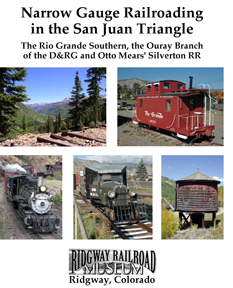 "A number of improbable narrow gauge railways once operated in the incomparable mountains of Southwestern Colorado. The stories of these steel rails laid through granite mountains is the story of Colorado itself. Heroic effort and tremendous engineering opened the wealth of the San Juans to the outside world. Here in this volume are compiled some of the stories of those railroads that illuminate different aspects of narrow gauge railroading as it once was in the Silverton, Ouray and Ridgway area. A time of steel rails, iron men, wooden cars and granite mountains comes to life once again. Enjoy this peek into what was and what remains."
Charlie Getz, columnist, Narrow Gauge and Shortline Gazette.

"The Ridgway Railroad Museum has assembled a wonderful selection of little known stories and facts about the narrow gauge railways of Ouray County. Talk about a group of dedicated individuals. The RRM has accomplished more, in a brief time, with fewer people and limited resources than many larger organizations."
Mallory Hope Ferrell, noted railroad historian.

"There's a saying at the Plaindealer newspaper office in Ouray. We never go wrong running articles on local history. So when the good folks from the Ridgway Railroad Museum offered up a series of well-researched, interesting and informative pieces about the role of the rails in county history, it was a no-brainer. They ran, readers soaked up the local lore and an important piece of Ouray County history was enriched and preserved. This book takes that achievement to the next level." David Mullings, editor & publisher, Ouray Plaindealer.